About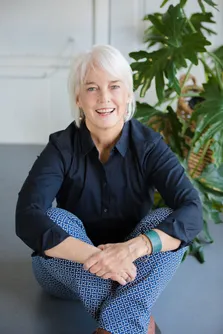 "When we identify with our pain or what's not right, everything becomes work. When we connect with our true Self, everything becomes play and or meaningful."
(This took me years to understand and live. Let me help save you time!)
Whether you are feeling stuck, overwhelmed or afraid, or are feeling eager and ready to make a big change, my passion and commitment to my own as well as my clients' continual divine unfolding combined with my extensive experience and training will provide you with the support and tools you need to create and allow the life you want.
My 15 years of professional (and personal) experience teaches me that creating wanted and lasting change in any area of life involves compassionate, mindful and playful attention to all levels of being: mind, body and spirit. Working from a broad base of experience, I offer approaches and practices that foster growth and healing. As well as following sound therapeutic and coaching practices, I work from a foundation of trusting the profound joyful shifts that occur when we humans learn to trust and engage with life from our true essential self, not our afraid efforting self.
I can support you as a Coach or as a Therapist, and will provide you with an inquiry process and information so together we can choose which would be best for your needs at this time. I specialize in the following areas:
► Transforming stuck and painful patterns into inspired living in work, relationships and creativity
► Couples relationship challenges/opportunities
► Personal or professional relationship challenges/opportunities
► Life transitions of all kinds

Instead of focusing on solving problems, figuring things out, fixing yourself, or trying to control what others do, I will accompany you on the profound journey of connecting deeply with the True essence of your Self. When people are connected in this way, Self-love naturally arises and knowing what to do and how to do it not only becomes easy, it becomes meaningful and deeply satisfying! Self-sabotage, confusion, depression, frustration, lack of clarity, self-doubt and judgment, blame, fear and the other vitality blockers begin to lose their grip on you in this process, and what emerges is a whole new and satisfying way of living. And often, when we do one piece of work and attain a new level of freedom then a new level of work presents it self for our continued growth and expansion. Sometimes people see this new challenge as a failure of previous work done but that has not been my experience personally and professionally: there's always some new aspect of our Being wanting to be loved and liberated.
Some of my professional credentials and training:
• Licensed Professional Counselor - Registered with the Colorado Department of Regulatory Agencies
• Master's Degree in Counseling Psychology – University of Colorado, Denver, Colorado
• Hakomi Body-centered Psychotherapy 2 year program Certificate -Hakomi Institute, Boulder, Colorado
• EMDR (Eye Movement Desensitization and Reprocessing) Certificate: Level I & II -Awake Mind, Julie Greene
Some Additional Professional Trainings and Experience:
• Short courses in: –EFT Emotional Freedom Technique Tapping, The Enneagram, Terry Real Relationship Therapy, Loch Kelly Nondual Mindfulness and Awake Awareness practices, Polyvagal Theory and IFS (Internal Family Systems), Stan Tatkin, John Gottman, to name a few..
• Dr. Joe Dispenza Intensive and Progressive Training -(Online) - Using the power of the mind and the human energy centers through consistent meditation practice and focus to liberate the mind from the body, and the present and future from the past.
• Internal Attachment -(a parts-centered approach that calms fear and unburdens hurt so that your true Core Self gets to naturally thrive )
• Resolution Certificate -(a physical release and self-regulation of emotional pain and trauma ) through Integrative Psychotherapy and Nutritional Counseling, Denver, Colorado

• Hendricks Conscious Living and Loving Coaching Training - 1 year -(a coach approach to rich intimate relationships, gratifying livelihood, and inspired creative expression.) Hendricks Institute
• The Art of Feminine Presence, Rachael Jayne Groover – 2 year Program-(A coach approach to embodying essential and authentic power through Presence, breath, intuition and effective engagement – 44 practices)

"You yourself, as much as anybody in the entire universe, deserve your love and affection."
- Buddha